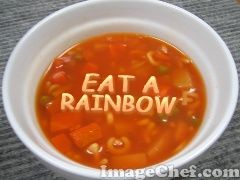 Sometimes there really aren't enough hours in the day. Hence my Friday post is making it in on Saturday! Here my tips, tricks and inspiration for the week.
Tip of the day:
The Harvard Health Blog.
I love this blog. This week instead of just whining about how the USDAs replacement to the food pyramid is useless, they came up with an actual improved version. Positive press - gotta love it!
This week's trick is portion control. A year ago, I bought serving spoons at Weight Watchers that make it easy to serve out a 1 cup, 1/2 cup (etc.) portion. I've you've ever tried to squish a cup of spaghetti into a measuring cup, you know what I mean. Anyway, let's make it a "weigh and measure" weekend and get those portions under control.
If you want to know more about portion distortion, here is an
eye opening graphic
I came across in June:
Finally, this week's inspiration. Every time I think "I can't do it," I read about someone who shows me I can. Guess what? I can. Here is
an article to inspire
you, too!
Have a good "weigh and measure weekend," everyone!